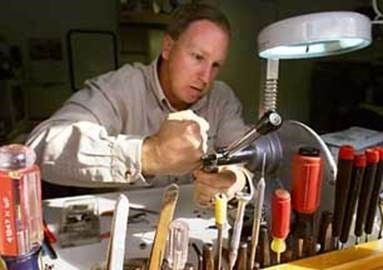 Dental Industry Experience
Glenn Williams began his dental career in 1984 after receiving an undergraduate degree in marketing from Bloomsburg University of Pennsylvania. Glenn started out as an independent manufacturer's representative selling a broad line of dental equipment throughout the northeastern United States. In 1987 Glenn began working as a manufacturer's representative for Dentalez, the third largest dental equipment manufacturer in the United States. Glenn specialized in the handpiece division, Star Dental and was an extremely effective rep for Star throughout the Midwest transferring to California in 1990.
Corporate Downsizing
In 1992 Glenn received the sales person of the year award after achieving over two million dollars in territory handpiece sales. Following this success, Star split his territory and income and Glenn was forced to look for other means to support his family. Through Glenn's extensive contacts in the dental industry he was able to muster the resources to launch his own handpiece repair service based out of his home in 1994. The concept proved so successful that Glenn co-founded the dental industry's first ever handpiece repair franchise. Because this was the first time franchising had ever been applied in the dental industry, Glenn opened the first location acting as a franchisee. After the unique experience of operating from the perspective of both a franchisor and a franchisee, Glenn became aware of some of the inherent disadvantages in the franchise system.
A New Direction
Glenn separated from the original franchise company in 1998, but continued to operate on his own. After increased success working independently Glenn decided to offer handpiece repair training to people as a business opportunity instead of a franchise. In this format, prospective associates would receive all of the same training and support as any franchisee while maintaining complete control over their own business. Additional benefits would include a larger protected territory, greater flexibility in choosing suppliers, and not being forced to pay 5% or more of your gross revenue in royalties.
Be Your Own Boss
Over two decades of industry experience have enabled Glenn to assist more than twenty people in launching their own handpiece repair businesses during the past three years. As a Handpiece Express Strategic Ally you are in control, you really are your own boss, with your own business and no one watching over your shoulder. You choose how much or how little support you want to receive as you go along. Handpiece repair offers low start up costs, a profitable home based business, and a loyal repeat clientele once you get established. If you think this may be the right opportunity for you, review the enclosed materials and call us with any questions you might have.